So here's what TMZ Got



TMZ has it down solid -- Lindsay and Sam Ronson are officially history.

Yeah so everywhere everyone was talking about how these two broke up. It's not true! Can't two people have a fight without everyone assuming the worst? God! My friend LC (and not Lauren Conrad) had fights with her ex that should have ended up with breakup. Leave them alone.
Here's the vid where they thought this shit up:
When asked if there's "trouble in paradise," Lohan responded yesterday in West Hollywood, "Not exactly." Translation: "We're at each others throats. It's a frickin' mess." - TMZ's interpretation of LiLo

Plus others...
Here's what I found out from LiLo herself: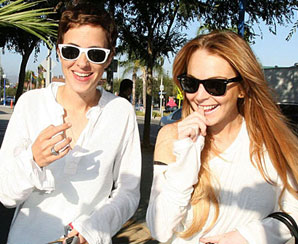 RUMORS
Monday, January 05, 2008



little piece of TRUE information:

we did NOT break up!

access hollywood, extra, et, every tabloid, page six... AND every GOSSIP website. Get your stories straight please. It's really annoying to have all of your friends emailing you saying, i saw, i read, etc... NOT TRUE



:) xoxox Lindsay
(Source)