January 9th, 2009
by hellokitty_news:hellokitty.com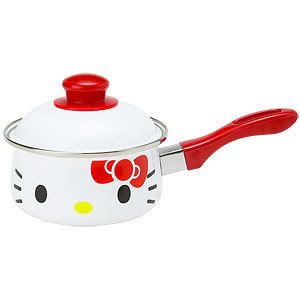 Since Sanriotown's newest contest "Sanrio Yummies" started, why not complete the cooking experience with this nice kitchenware recently released by Sanrio? Be inspired in "kittyfying" your food by cooking your favorite meals in this Hello Kitty inspired cooking pot!
Check here for more details:
January 5th, 2009
by hellokitty_news:hellokitty.com
Tired of seeing your boots lying on their sides in the corner or having to put them back in their boxes right after using because they create unnecessary clutter? This Hello Kitty item might just be what you need!
These are inserted in the boots, either knee-high or mid-calf length, to make them stand straight, a handy item for those who want to keep their shoes safe from damage. When not in use, the stand can be folded for easy storage.
October 7th, 2008
by hellokitty_news:hellokitty.com
Add fun and cuteness to your casserole cooking when you use the Hello Kitty earthen pot!
With the lid bearing Hello Kitty's cute face, the owner of this will definitely not find cooking a chore ever again!